Webinar – The Wool Revival | BigFoot DA Wool Pads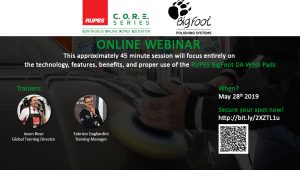 In the last few years wool pads have seen a resurgence thanks to new materials and innovative manufacturing techniques that take this "old school" material and re-imagine it for use on today's modern polishing tools. The BigFoot DA Wool Pads have set a new standard for performance in the wool pad category producing incredible cutting on orbital tools without sacrificing finish quality.
Join Jason Rose, Global Director of Training, and Fabrizio Gagliardi, Training Manager, for a free webinar offered for RUPES customers, distributors, and employees on Tuesday May 28th. This approximately 45 minute session will focus entirely on the technology, features, benefits, and proper use of the RUPES BigFoot DA wool pads.
To reserve your spot for this webinar please click the following link and complete the registration form, according to the different Time Zones: https://event.on24.com/wcc/r/1997137/29303F2845278908DE8B1E446FAFCEAE
Tuesday 28/05 – 3pm (Milan)
Tuesday 28/05 – 2pm (London)
Tuesday  28/05 -9pm (Beijing)
Tuesday 28/05 – 11pm (Sydney)
Tuesday 05/28 – 6am (Los Angeles)
Tuesday 05/28 – 9am (New York)
If you can't attend the live session, don't worry! Register for the webinar and we will send you an on-demand link after the conclusion so you can view the entire presentation when it is convenient for you.