BigFoot Polishing System – Polishing Pads

The three critical system components are designed to work in combination to guarantee low vibration levels and the best possible polishing result. The BigFoot systems are designed for maximum efficiency, ease of use and operator comfort. Using BigFoot with RUPES original backing pads and RUPES original polishing pads results in a technical system that guarantees the best possible polishing result and ensures that the tool has perfect balance and a substantially reduced vibration level. The use of backing pads or compound carriers other than members of the BigFoot family of products can lead to a reduction in performance and can further affect the technical and mechanical characteristics of the tool, changing its balance and increasing vibration. Increased vibration not only affects the comfort and overall safety of the operator, but also results in significantly diminished tool life.
BIGFOOT FOAM POLISHING PADS
The foam pad is one of the key elements in the polishing process; many variables in the technical specs have to be taken into consideration to optimize the performance. Dealing with different paint, compounds or machine requires different foam to make the job safe and efficient.
New foam polishing pads with completely new materials and pad profile. Our new D-A Foam Pads, just like the corresponding compounds, are compatible with BigFoot random orbital and gear driven orbital tools. The new, proprietary foam formulas and new pad profile have been extensively tested to deliver great performance and improved user experience on all the BigFoot orbital polishing systems. Thanks to the new contoured profile, it will be easier to polish those complex and difficult-to-reach areas, without any risks of touching the surface with the edge of the backing pad. The lower profile was specially designed to maximize the transmission of the random orbital and gear driven tool mechanical movements to the work surface. Moreover, it provides a great user experience by reducing the overall distance from the surface, improves stability and control during all phases of the polishing process, and aids in reducing pad distortion mainly caused by the gear driven tools movement and torque output.
ROTARY FOAM
POLISHING PADS
Completely new foam formulations specifically optimized for rotary application. The system includes three types of foam pads designed to give the operator choices depending on the desired outcome. Open cell foam materials were chosen to minimize excessive heat. The pad profile helps to prevent accidental contact between the backing plate and the panel. 25mm thickness for each pad version available in 125mm, 150mm, or 165mm inch pad sizes.
BIGFOOT WOOL POLISHING PADS
The Wool Polishing Pads have a great cutting range, an excellent finish, they are slightly less aggressive than microfiber, but they are one of the best choices in terms of cutting defects especially as a first of two steps or for one step applications.
In the RUPES BigFoot range we have two categories of wool pads, each of them specially designed for a specific polisher movement; D-A Wool Pads, for Random Orbital and Gear Driven Orbital, and Rotary Wool Pads.
The D-A Wool Polishing Pads are available as D-A MEDIUM and D-A COARSE, while the Wool Polishing Pads for Rotary are divided in Twisted Wool Pads and CUT & FINISH Wool Pads.
The new wool pad range is compatible the random orbital and the gear driven polishers included in the BigFoot family. The face of the wool pads is constructed of 100% natural fibers attached to a polyester backing material layer. Quality control for the wool is monitored through the entire manufacturing process to ensure consistency. The blue foam of the coarse wool pad is more rigid and dense which maximizes the translation of tool movement to the work surface, providing increased cutting power. The yellow foam of the medium wool pad is much more flexible to allow for improved control on curves and contours, as well as providing a softer support providing improved finishing ability.
CUT & FINISH
POLISHING PADS FOR ROTARY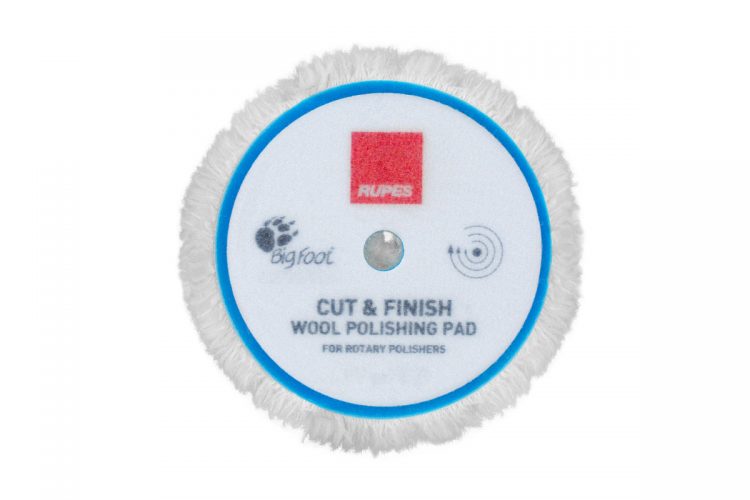 The CUT & FINISH Rotary Wool Polishing Pads represent a massive leap forward in rotary pad technology, providing versatility for detailers, body shop technicians, or anywhere a rotary polisher finds frequent use.
These pads use only the highest-quality genuine merino wool fibers refined to a consistent 20mm length, assembled in an extremely dense pattern onto a specially designed foam interface.
TWISTED WOOL
POLISHING PADS FOR ROTARY
Designed to provide impressive cutting speed, reduced risk of rotary swirls and improved process efficiency while maintaining a smooth, vibration-free, and operator experience.
The all-new RUPES twisted natural wool pads for rotary are available in three sizes and are compatible with virtually all rotary polishing tools on the market today. Each RUPES twisted natural wool pad is constructed of a premium blend of 100% natural lamb's wool and assembled with a precise strand length of 35mm.
No synthetic fibers or fillers are used in the construction of the pad and each strand is steam set to ensure consistency and fastness of color.
The RUPES' twisted natural wool pads were developed to optimize the performance of RUPES Coarse Rotary Compound in a variety of applications and industries.
MICROFIBER D-A POLISHING PADS
The RUPES product development team has been hard at work to develop a new generation of microfiber pads to expand the options within our incredibly popular D-A Polishing System; the new D-A MICROFIBER PADS. Each pad has been extensively tested, tweaked, and refined to deliver on our commitment to high-performance results for all dual-action orbital tools.
Three sizes available. Each pad is specifically sized slightly larger than the compatible backing plate to provide edge protection during use. High-performance fabrics. The face material for each pad was developed to deliver the highest quality results possible for its given performance range including tweaks to fiber length, density, and denier.
Three levels of cutting aligned with the RUPES blue, yellow, and white color-coded system. Each pad features unique foam materials, profiles, and microfiber fabric tuned to deliver a specific range of cut and finish. Squared edges on all three grades and all sizes was specifically chosen to maximize the cutting performance of the pads on D-A tool movements.