HIGH EFFICIENCY FILTERING TECHNOLOGY
Thanks to over 40 years of experience, alongside research and development into dust classification and filtering technology, RUPES extraction units can be installed in many different industrial applications, guaranteeing high filtering efficiency (99.5% with dust up to 0.3 [µm]) and high usage reliability.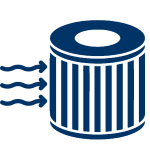 ---
CYCLONIC FILTERING SYSTEM

Thanks to a tangential inlet, the RUPES cyclonic system separates the dust from the air flow, forcing the particles to settle on the bottom of the container.
METAL CYCLONIC SHIELD

The RUPES metal cyclonic shield has been designed to protect the filter from particles and parts that could damage it. Thanks to the micro-holes on its surface, it guarantees high filtering efficiency while maintaining high extraction performance.
PTFE FILTER

The filters in RUPES extraction units have been designed and manufactured with a special metal structure and with PTFE filtering material which guarantees in a range of intensive applications:
– High filtering efficiency (99.5% with dust up to 0.3 µm);
– High resistance over time;
– Lower maintenance costs.
ROTOR JET AUTOMATIC CLEANING SYSTEM

The RUPES Rotor-Jet System is the result of a detailed research and development engineering study; the system removes dust from the surface of the filter through a jet of centralized compressed air.
This automatic filter cleaning system ensures:
– Direct and local cleaning of the filtering surface with high pressure;
– during use;
– Longer filter life.