Rupes BIGFOOT System Seminar – May 22nd Denmark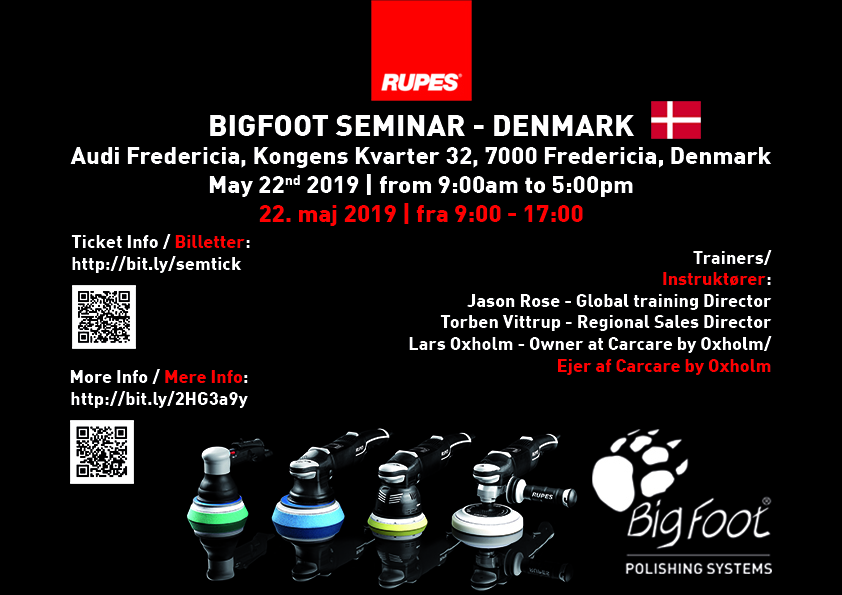 The next Rupes Bigfoot Seminar will take place in Fredericia, Denmark. Bigfoot brings a great opportunity for the car-detailers and car enthusiasts to learn about the world's best detailing techniques, by some of the most celebrated trainers and technicians in Rupes world.
The attendees will have the possibility to learn some tips and tricks from Jason Rose (Global Director of Training at Rupes USA), Torben Vittrup (Regional Sales Director at Rupes), and Lars Oxholm (Owner at Carcare by Oxholm).
In the Bigfoot event every car-detailer will get individual hands-on training which would help them learn the details about all the machinery and tools.
Participation Info:
Location: Audi Fredericia, Kongens Kvarter 32, 7000 Fredericia, Denmark
Date: May 22nd
Time: from 9:00am to 5:00pm
Ticket info: bit.ly/semtick
More info: bit.ly/2HG3a9y