RUPES BigFoot Seminar Middle East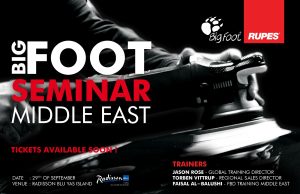 On September 29, for the first time a RUPES BigFoot Seminar will take place in Middle East.
Attendees will have the chance to listen to the tips and tricks of RUPES Global Training Manager, Jason Rose, Regional Sales Director, Torben Vittrup, and FDB Training Middle East, Faisal Al-Balushi.
Event Venue: Radisson Blu Yas Island in Abu Dhabi.
Date and Time: September 29, from 9am to 5:30pm.
Info and tickets: http://www.bigfootseminar.net/