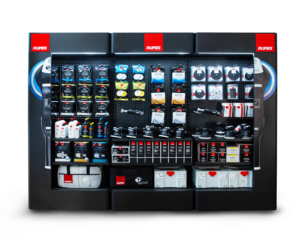 RUPES introduces the new Tool Displays Deluxe with led backlight system; a heavy duty all steel construction with powder coated charcoal grey finish to showcase the whole RUPES product range, including tools, consumables, accessories, bags and many other items.
This display system consists of 3 modules, available separately and combinable with each other to create multiple layout combinations. Each display is supplied with 2 adjustable metal shelves and 12 hooks.
Available in Europe and select global markets, not in North America.