Coming Soon… New Authorized BigFoot Centre Johannesburg
Rupes is pleased to announce a new Authorized BigFoot Car Detailing Centre in Johannesburg, South Africa, opening soon!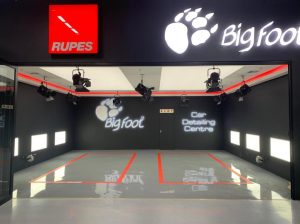 BigFoot Car Detailing Centre Johannesburg will be an official partner of Rupes S.p.A.
They are automobile surface appearance specialists that supply and utilize all the innovative ranges of Rupes BigFoot System to remove paint defects, enhancing the vehicles appearance and protecting the new defect free surfaces. Their services also extend to Yachts, Private Jets, Bikes and certain residential and commercial applications. Equipped with optical instruments, they offer the best technical precision and excellent after care services.
BigFoot Car Detailing Centres Network is increasingly growing and soon also Bigfoot Car Detailing Centre Johannesburg will be part of it!
Would you like to be part of the BigFoot Car Detailing Centres Family? Click here and fill out the form to JOIN our NETWORK!