BigFoot Seminar – Australia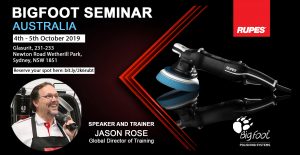 Join RUPES Global Director of Training Jason Rose for his BigFoot Seminar in Sydney, Australia. Jason Rose is widely recognized as one of the preeminent authorities on automotive surface care. With decades of experience as a trainer and technician, he develops and manages the content for our training center and deploys training programs for RUPES around the world. The training will also be administered by two of Australia's most respected RUPES team trainers Rob Lewis & Steve Peek.
This workshop is guaranteed to take your skills, knowledge and business to higher heights and all attendees will be awarded the highly recognised RUPES BigFoot Certificate with also a voucher given to purchase any products on special on the day of the event.
We are offering two courses:
Day 1 – Friday the 4th of October for beginners to Intermediate.
Day 2 – Saturday the 5th of October for the experienced.
Tickets available here: www.eventbrite.com.au