New BIGFOOT Car Detailing Centre London
Rupes is excited to announce the opening of a new BIGFOOT Car Detailing Centre in United Kingdom, near London!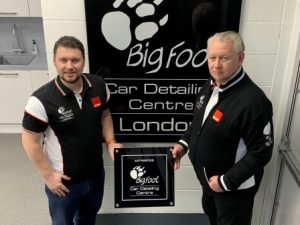 On March 11th 2019 Marco L. Pullen and Lee J. Pullen from Lussivo came to visit Rupes in Italy to sign, together with the Global Marketing Manager Francesco Ginocchio, the contract to officially become an Authorized BIGFOOT Car Detailing Centre.
With their experience, professionality, and enthusiasm they will be providing clients with the best services, using Rupes BIGFOOT System.
BIGFOOT Car Detailing is the culmination of various techniques including decontamination, polishing and protection. BIGFOOT Car Detailing Centres take intensive care, with extreme dedication, of every aspect of a vehicles various surfaces. They are automobile and surface appearance specialists who use all innovative ranges of RUPES and BIGFOOT System to enhance, correct, preserve and defend automotive surfaces. From management to technicians, each member of the BIGFOOT Centres is ready to exceed client expectations from beginning to end!
BIGFOOT Car Detailing Centres Network is increasingly growing and from now on also Bigfoot Car Detailing Centre London is part of it!
Would you like to be part of the BIGFOOT Car Detailing Centres Family too? JOIN our NETWORK!