Webinar February 25th – LHR15III VS. LHR21III
LHR15III VS. LHR21III: How orbit sizes impact performance featuring the new BIGFOOT MARK III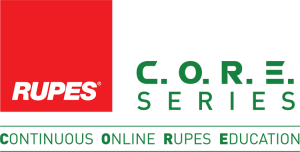 Our Training Team composed of Jason Rose, our Global Training Director and Fabrizio Gagliardi, our Training Manager have scheduled this session for Monday, February 25th (duration 40 minutes).
This session will focus on how large stroke random orbital polishers have, in a short time, revolutionized the way technicians correct and finish surfaces. The BigFoot large orbit polishing technology pioneered by RUPES has forever changed the expectations for performance and capability in the polisher category, but many users don't understand how orbit can impact cutting or finishing in both sanding and polishing operations.
In this C.O.R.E. Series Webinar the RUPES Global training team, led by Jason Rose and Fabrizio Gagliardi, will cover the various aspects of orbit, specific advantages and disadvantages, and when to choose one orbit size over another. New BigFoot Mark III tools will be featured.
This webinar is a great learning opportunity for professionals in both the detailing and body-shop industries, as well as hobbyists looking to gain a better understanding of random orbital movements. It will also be good guidance for someone trying to make a decision on which tool is right for them.
If you would like to participate, please pre-register to the session:
MILAN
February 25th
4:00pm
LONDON
February 25th
3:00pm
BEIJING
February 25th
11:00pm
SYDNEY
February 25th
2:00am
LOS ANGELES
February 25th
07:00am
NEW YORK
February 25th
10:00am
*Note: when you select your session and click the registration button you will be redirected to a new page. The times displayed on this registration page may display in European Central Time due to the fact that RUPES is headquartered in Milan, Italy. Refer to the chart above for the relevant conversion for your time zone.