New RUPES rotary compounds
Developed by RUPES to enhance rotary polishing performances and efficiency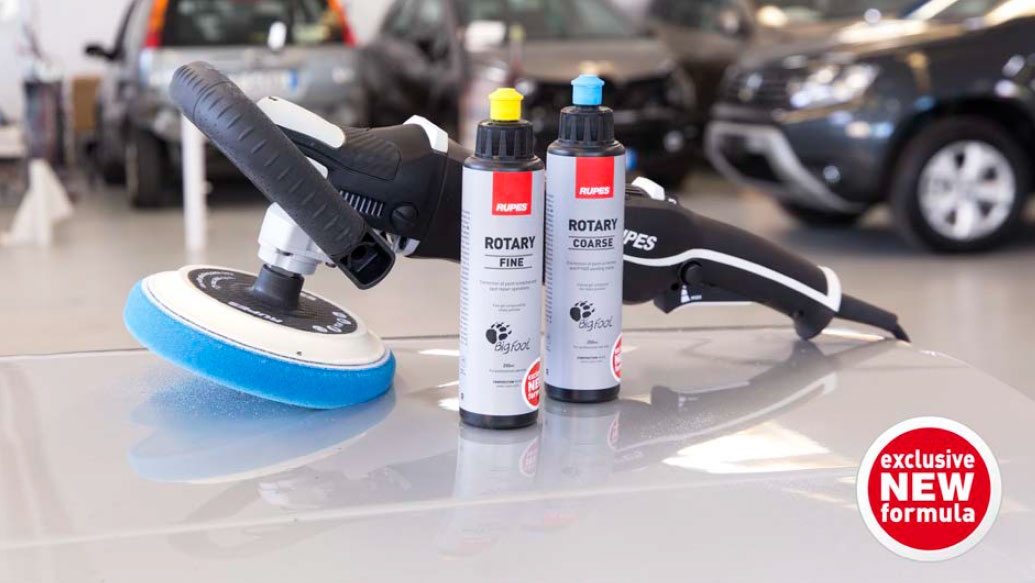 ---
RUPES has developed 2 new compounds for rotary polishers: the RUPES BigFoot Rotary Coarse Compound and the RUPES BigFoot Rotary Fine Compound.
RUPES has formulated the new RUPES BigFoot Rotary Coarse Compound to be the ultimate solution for the removal of sanding marks and severe defects, while maintaining a smooth operator experience.

Rotary Coarse is a compound ideal for correction of severe paint defects and P1500 grit sanding marks or finer, and to optimize cutting, finishing, and user experience.
This compound provides an aggressive cutting action, without excessive dusting or pad chatter. Its abrasive type is high density load, for maximum cutting.

With significant rotational forces, resulting in high amounts of heat and friction at the surface, producing a rotary polishing compound formula is one of the most challenging tasks.
The new rotary compound must be able to handle the heat and friction throughout a polishing cycle, in order to enhance the cutting ability.
The best cutting efficiency is reached with the RUPES Rotary Coarse Wool pads.
---
The new RUPES BigFoot Rotary Fine Compound has been formulated as a second step polishing procedure, after the RUPES Rotary Coarse compound application.
Rotary Fine is a versatile high shine polish, suitable for quick light to medium imperfections and holograms for a superior deep gloss.

This unique formulation ensures a gentle action and an impressive easiness during use. Delivering superior gloss enhancement, rich appearance and swirl free results, this polish is performance validated on all types of paint (hard paint, OEM and fresh paint).

Rotary fine has also been formulated to reduce the wipe off time, making the application easy and efficient.

This new fine compound has been produced and formulated to be used specifically with the BigFoot Rotary system (LH 19E Rotary polisher) and the RUPES Rotary Foam Polishing Pads.
The Rotary Fine Polish is developed, formulated, and manufactured in house completely by RUPES and is yellow to be coupled with the Yellow Foam Pads.
Rotary Fine Polish removes swirls and polishing marks as well as medium to fine scratches and holograms with the RUPES Rotary Yellow Foam Pad.
---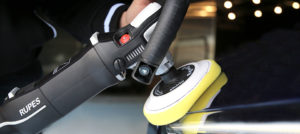 It is a silicone and wax free formulation, and a no dusting product in order to maintain a clean working environment. This new product presents the latest technology of abrasives for both superior cutting and finishing capability.
The RUPES BigFoot Rotary Compounds have been developed, blended, and manufactured in house by RUPES. The formulas have been designed, certified, and intended to be used with the RUPES BigFoot Rotary system, including the tool and its relevant pads.