Medium wool polishing pads for random orbital, gear driven, and triple action
9.BW series M
The medium wool polishing pads for random orbital, gear driven, and triple action are especially designed for moderate defects removal. The yellow foam of the medium wool pad is much more flexible to allow for improved control on curves and contours, as well as providing a softer support for improved finishing ability.
The yellow medium wool pad range features a consistent 15mm fiber length through the entirety of the pads surface. This soft and flexible wool paired with a soft and flexible yellow foam backing, besides cutting moderate defects, also guarantees excellent finishing ability on most surfaces.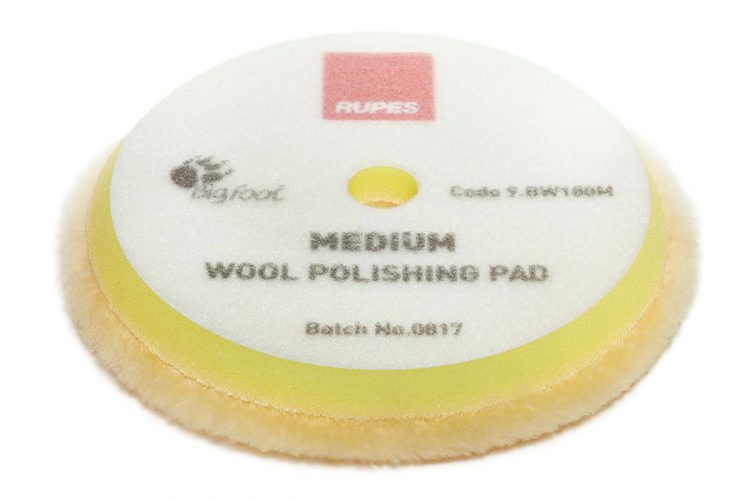 Fotos






Videos


Größe
9.BW180M Ø 150/170 MM
Use with polishers LHR21, LK900E
9.BW150M Ø 130/145 MM
Use with polishers LHR15, LK900E, LHR12E, LTA125
9.BW100M Ø 80/90 MM
Use with polishers LHR75E, LTA75, LHR75
9.BW70M Ø 50/65 MM
Use with polishers HR81M, HR81ML
9.BW40M Ø 30/45 MM
Use with polishers HR81M, HR81ML
Reviews from google
Most versatile pad in Rupes range.
Vxcalais·
repco.com.au
·
6. April 2021
Excellent pad for one step correction on soft paint or finishing on harder paints. Must have pad and can be used with Pupes DA polish, S20 Black or similar. Good to see Repco stock these Pro pads.
Sky's the limit carries all
Denise C.·
carpro-us.com
·
16. März 2022
Sky's the limit carries all of the Rupes products we need and the fast, excellent service is beyond compare!
Excellent product
alberticol·
ebay.com
·
4. November 2020
Idk why I didnt buy these before. They really goes perfect with my mini 75e.
Great buffer - used to re wax a wood floor
jjddt1234·
ebay.com
·
17. Juni 2020
Used this to polish a wax floor with a DA power sander - worked fine, has velcro on it
Kontakt für weitere Informationen