NEW D-A SYSTEM MICROFIBER TOWELS
RUPES presents the new D-A System Microfiber Towels; three polishing cloths made from premium microfiber material.

Each towel features an embossed BigFoot logo and edgeless scratch-free design. The material, weave, and gram-weight of each towel was selected to compliment the RUPES range of compounds and polishes and provides an outstanding balance of performance and utility.
Each Microfiber Towel will be packed individually inside a flowpack metallic film package to ensure maximum protection.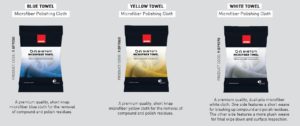 MATERIAL AND SIZE
Blend: 30% Polyamide – 70% Polyester
GSM: 230 (Blue, Yellow) – 320 (White)
Weave Type: Terry
Dimensions: 41cm x 41cm (16" x 16")
To learn more and inquire about the purchase of these new products, contact your RUPES authorized distributor: https://distributor.rupes.com/
Currently available in Europe and select global markets, coming to the USA later this year.