HSS73 Delta orbital mini sander with iBRID technology
Lis le
HSS73
The HSS73 Orbital Mini Sander with iBrid Technology is ideal for the sanding of wood, composite, plaster and other surfaces in virtually any industry. It features a delta shaped multihole rubber plate for efficient vacuum, which is specially designed to sand narrow surfaces as shutters, drawers, chairs, and more, as well as sanding and preparation of internal surfaces in the marine industry.
The innovative iBrid Technology, first featured on the BigFoot iBrid Nano family of tools and the HLR75 iBrid Mini polisher, allows the operator to choose the power platform that best suits the specific situation or application. Use battery power for cordless operation or insert the iBrid Power Adapter and run continuously on corded power. Performance is identical regardless of power source.
The HSS73 also features a self-extraction system that enable to use the tool without an external extraction unit by connecting the patented RUPES GREEN TECH filter, giving the operator unmatched incredible maneuverability and balance to guarantee precise and efficient sanding results.
The throttle lever with variable speed provides precision control of tool operation, while the speed control dial guarantees five working speed for versatility and soft start. Optimized ergonomics, compact design and modern lines make this tool very comfortable and easy to use in a variety of grip and hand positions.
Moreover, RUPES decided to apply the innovative Q-MAG Magnetic Technology to the HSS73 iBrid Mini Sander. The magnets replace the rubber shroud featured on the LE and LS Mini Sanders, meant to prevent the backing plate from rotating. This movement technology guarantees a longer life cycle of internal parts, minimizing wear and maintenance.
BATTERY AND BATTERY CHARGE
The HSS73 utilizes the same Lithium-ion battery of the HLR75 iBrid Mini Polisher to ensure complete compatibility between the tools of the new RUPES iBrid line of mini tools.
Lithium-ion battery cells (18V 2.5Ah) with LED indicators show the charge level with the push of a button. A full charge allows for between 35 and 45 minutes of continuous operating time.
The Battery Charger 9HC180LT is custom designed to fit the iBrid Mini's unique battery pack system. The charging station indicates charge status using integrated LED lights and provides 100% charge from zero to full in approximately 35 minutes.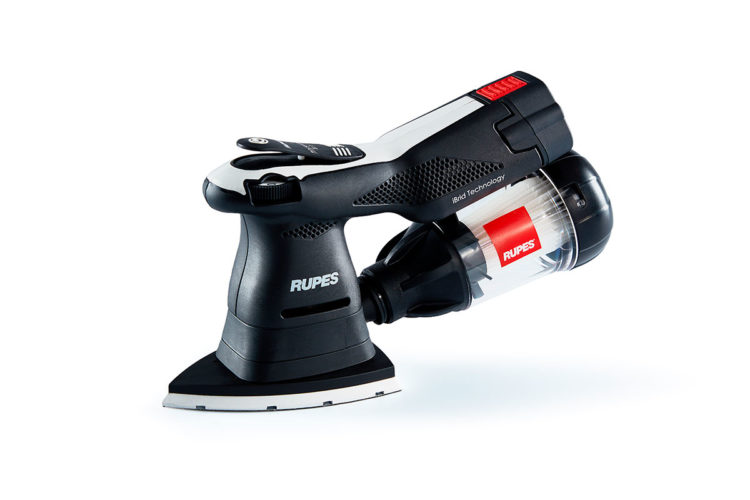 Photos







Kits disponibles
HSS73/BLX
Mini Sanders(HSS73)
Systainer Case(9.CASEIII)
Battery Charger(9HC180LT)
Battery(9HB180LT)
Power supply(9HP180LT)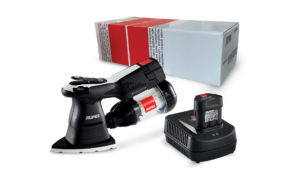 HSS73/STB
Mini Sanders(HSS73)
Battery Charger(9HC180LT)
Battery(9HB180LT)
Données techniques
| | | | |
| --- | --- | --- | --- |
| | HSE73 | HSS73 | HSR73 |
| Ø Orbit (mm) | 2 | 2 | 2 |
| Voltage DCV (Volt) | 18 | 18 | 18 |
| R.P.M./min | 7000÷11000 | 7000÷11000 | 7000÷11000 |
| Electronic speed control | • | • | • |
| Battery life | ~35/45 min* | ~35/45 min* | ~35/45 min* |
| Charging time | ~35 min* | ~35 min* | ~35 min* |
| Pad size/shape (mm) | 80×130 | Delta | Ø125 |
| Self generated dust extraction | • | • | • |
| Weight (Kg) | 1.0** | 1.0** | 1.0** |
*The value refers to the use of the battery pack 9HB180LT, completely charged with the battery charger 9HC180LT.
**Measured without battery pack and power supply.
Contact pour plus d'informations